Experian had the privilege of being recognized as the corporate honoree at the Spirit of JA Celebration last night. The Spirit of JA is the annual celebration, auction, and awards ceremony for Junior Achievement of Northern New England. Junior Achievement (JA) is a non-profit organization that has 120 chapters in the United States and runs youth programs worldwide. Its mission is "to inspire and prepare young people to succeed in the global economy. Using hands-on experiences, JA helps to prepare young people for the real world by teaching skills in financial literacy, workforce readiness and entrepreneurship." The local chapter, which was started in 1945, serves the young people of Northern New England by partnering with businesses in the community and training individual volunteers to provide hands-on lessons to students in grades K-12.

As this year's corporate honoree, Experian is being recognized for our contributions to JA. As one of Northern New England's largest supporters, Experian has had an impact through hundreds of hours that employees have volunteered in JA classrooms, as well as through financial contributions. We first became involved with JA of Northern New England about four years ago. In that time, we have empowered more than 900 students through our charitable gifts and active volunteerism. We appreciate the opportunity we have had through JA to impact the financial literacy of youth in our community and to lead to their improved economic futures.

It fits within Experian's overall mission to create a better tomorrow. That mission drives our work with our customers, as well as our work in the community. We believe in the power of unlocking potential; whether that's the potential of your data, or the potential of the children who will be our future. Our commitment to that mission made our partnership with JA a natural choice as a community partner.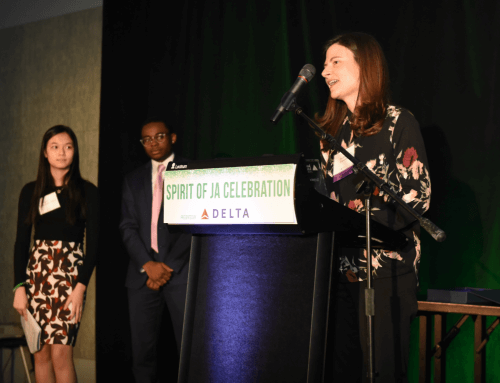 Beatriz Santin accepting Experian's Spirit of JA Celebration award
"JA does the very important work of preparing students to enter the workplace, and the adult world, with the economic knowledge and skills they need to own their financial future," said Beatriz Santin, Vice President of Strategy at Experian. "Our employees gain as much from the volunteering experience as the kids do."

In our time working with JA, we have sent employees to teach lessons in elementary school classrooms around the Greater Boston area. We have also hosted high school students in our office to take a tour and learn from our staff about financial literacy, entrepreneurship, teamwork, and what it's like to work in tech. We are truly honored to be recognized in the Spirit of JA awards and look forward to our continued partnership with this important organization.
Want to know more about what drives us at Experian?