Marketing automation tools are a wonderful thing. They are designed to make a marketer's job infinitely easier, and allow them to execute some truly extraordinary campaigns. However, if the integrated nature of these campaigns is the circulatory network of veins, then email addresses are its blood.
Without valid, deliverable email addresses, marketing campaigns will flounder.
Dan Zarrella at HubSpot conducted some research across 40,000 HubSpot customers that revealed if you reduce your form fields on your 'Contact Us' page from four to three, conversions increased by 50%. Who wouldn't want more conversions on their forms?
The problem is many marketers feel the sales team needs every bit of that information and therefore need every one of those form fields.
There is a solution, however, that it is easily achievable – eliminate the email confirmation field (i.e. the one that reads 'please re-enter your email address').
Traditionally, this second email field has been used to ensure the email address was entered correctly in the first place. The majority of marketing messages are distributed via email, so ensuring this information is correct is vital. Technology, however, has caught up and email addresses can now be validated in real-time. This can be done in-line off of one form field.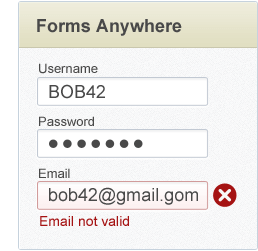 The process is simple. As an email address is entered, it is processed in the background for the domain, syntax formatting, and where possible, the username. If there is an error, the user is notified and prompted to correct the email address.
This simple validation can have huge impact on marketing conversion. Not only do you get significantly more valid email addresses into your database, you get higher form completions because of the reduced number of fields. That is a win-win, right?