What's top of mind for today's retailers? The EDQ crew is back from a trip to Philadelphia for this year's Shop.org conference, the National Retail Federation's (NRF) event specifically for digital and multichannel retailers. The floor was busy with conversation, but so was the social sphere: the conference Twitter hashtag #shoporg15 revealed a few common themes and insights on the mind of modern digital retailers today.
Building around an end-to-end customer journey
A lot of talk focused on moving to a fully customer-centric experience. The Tuesday keynote featured QVC CEO Michael George talking about just this, specifically the idea of thinking outside the constraints of specific devices and instead putting an emphasis on a seamless, cross-screen experience. Jason Goldberg (@retailgeek) shared one of the more interesting insights from that session.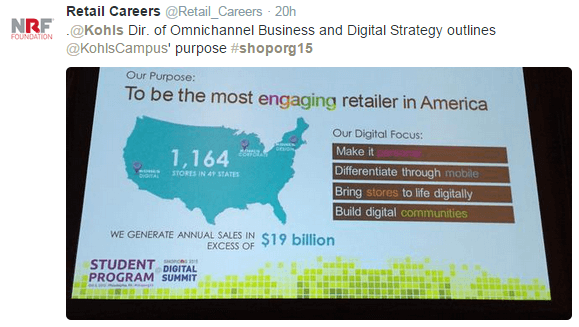 Kohl's furthered this notion (in a tweet from NRF's Retail Careers account), talking about the need for personalization, tailoring offers for specific customers, as well as prioritizing storytelling to provide consistent experiences across multiple channels. This work is all in support of their goal of becoming the most engaging retailer in America.
Unlocking the power of mobile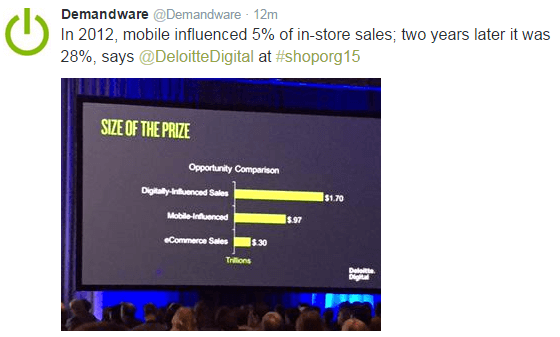 Mobile was the hot channel up for discussion at Shop.org, particularly in the Twitterverse. Demandware shared this picture sharing some data that calls out the impact of mobile on in-store sales, with the impact multiplying five-fold within just two years. The potential opportunity for retailers in mobile seems huge.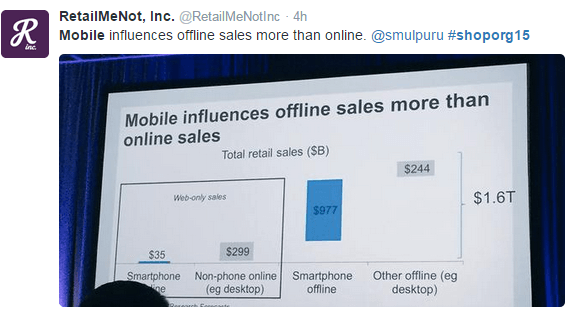 Forrester Analyst Sucharita Mulpuru (shared by RetailMeNot) also shared some interesting insights on how mobile actually influences offline sales more than online sales. It seems counterintuitive that mobile would impact in-person sales more than digital, but even in thinking of my own personal habits as an example (conducting mobile research on product reviews before I buy something in person) it's not that surprising.
A seamless customer experience and mobile were just two of the interesting insights that came out of Shop.org, but two critical topics to stay abreast of in the retail space. The push for customer centricity, as well as the definite impact of mobile on sales, will shape the way retailers do business and interact with customers in the months and years to come.
Want to learn more about how EDQ can help those in the retail space? Download our retail guide to managing data quality.