Last year we began to see signs of just how aware organisations are to the strategic benefits that data can drive and with that we noticed an interesting shift in roles and responsibilities. Our first research study in November 2014,
'The Dawn of the CDO
', explored a comparative view of the increased pressure Chief Information Officers (CIOs) face in exploiting business data and how the emerging role of the Chief Data Officer (CDO) was acting as an enabler for change. From this research we learnt that:
The CDO can act as an enabler for change, spearheading corporate wide responsibility for data
The prior career path of a CDO role is very varied and where, comparatively, CIOs often have a technology background, CDOs derive from various business backgrounds to align with corporate objectives
In order to drive a collaborative approach, data requires a dedicated focus at board level, facilitated by a CDO office to support the corporate wide delivery of processes
With Gartner forecasting further acceleration of the CDO role, we wanted to build a comprehensive understanding about the motivation for appointing a CDO (or choosing not to), as well as getting an inside view on current data initiatives. With this in mind, we set phase two of the research programme in motion and have interviewed 40 CDOs and senior business executives to get their perspective on the front line experiences of this new 'data force.'

The findings of this research are due to be published in September, but here's four themes I found most insightful:
1. Technology advances are driving data migration and change management
As technology has evolved, businesses are increasingly adopting
'cloud' computing
solutions and this is driving standardisation of infrastructure which removes the need for 'customisation' and implementing architecture. The time and budget traditionally spent on these activities is now being dedicated to concentrate on the outcome - the data.
Businesses are focusing on both the migration of data to the cloud and change management.
2. Traditional operational models are no longer an option
Businesses are increasingly changing their operating models in response to digital empowerment and the exponential growth of data. This has driven a requirement for a leader of data, but also someone to guide the business through this change – evangelising data and supporting a data-driven culture.
3. Regulation is an opportunity
Interviews concluded that businesses don't view regulation as a barrier, but rather an opportunity that is driving a shift in processes. Compliance is motivating the requirement to manage the way data is handled, and in turn is driving the conversation at a board level. For many large organisations this has often already resulted in the implementation of a CDO.
4. Social data is throwing up new questions
Senior executives concluded that operational data must be tightly managed, whereas analytical data requires a less thorough approach. Relatively new on the agenda however is social data. This untapped resource is throwing up questions about how it should be ethically used.
Through the interview process we have also created an exclusive exchange forum and community network of C-level data leaders that meet regularly to discuss the role of data in their organisations. As this network continues to grow we invite data leaders to join, to request an invitation simply email:
dataquality@experian.com
.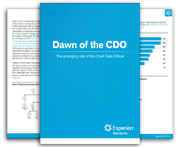 The full report will be available to our data community from late-September, but in the meantime you can read our
2014 CDO research
.