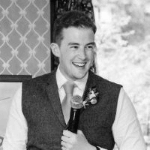 Danny works in our Professional Services Department as a Data Quality Consultant. As a consultant Danny works closely with our customers to understand their problems and recommend solutions to help analyse, improve and control data quality.
Having worked for Experian for almost 5 years, in a number of different roles, Danny is well versed in helping customers in all sectors with their data quality challenges.
Outside of Experian, Danny has a strange hobby…entering online competitions! This odd hobby has also lead Danny to become somewhat of an expert in web-form design, having completed 50,000+ with his 'comping' activities! As a successful 'comper' Danny's hobby has proved to be rewarding, offering him trips to Silverstone, Berlin and South Korea. However none more exciting (we're told) than The Banks's Stadium, home of Danny's beloved Walsall FC (the pride of the Midlands).
April 1, 2016
We are living in a world where data collection is growing exponentially, where organisations of all shapes and sizes are starting to recognise the strategic importance of data assets and not treating them as simply a by-product of business operations. Whether it is transactional information, customer behaviour patterns, logistics data, financial performance or any other form of data asset, businesses are starting to find it difficult to understand and manage data, big or small.