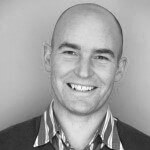 Dylan Jones is the editor and founder of Data Quality Pro and Data Migration Pro, the leading community resources for their respective professions. He has over 20 years' experience of delivering complex data quality and data-driven initiatives. Dylan is a keynote speaker, author and regular publisher of expert insights on data quality related topics.
During a recent Data Migration Roundtable, a delegate confided with me that they were feeling overwhelmed at the thought of having to coordinate and oversee a large data migration project.
Coping with all the moving parts of a complex data migration is a common challenge, so I wanted to share some practical ways that I've approached this in the past.
Continue reading How can I make my data migration easier to manage?
During a recent interview with Rebecca Hennessey, I also explored some of the key findings and recommendations from the research.
In this post, I want to expand on those earlier insights by introducing the 'Data Migration Butterfly Effect'.
This phenomenon occurs when a few simple oversights, typically at the beginning of a data migration project, can cause a chain reaction leading to widespread chaos and delays as the project develops!
You can finally ignore the assumptions, anecdotes and accusations about your data; data migration will expose the whole truth (and nothing but the truth!) about your data.
Continue reading How to tackle the data migration cleansing challenge
From experience, I find that most companies struggle with making their data quality assessment results compelling because they take a data-centric viewpoint. They show stats and metrics that, whilst valuable to the data community, can be dull as dishwater to the business leader who needs to make tough decisions on where to focus limited staff and financial resources.
Continue reading How to make your data quality assessment meaningful to your business
In this two-part series I want to share some practical, actionable techniques to help you create a more business focused data quality assessment.
One of the mistakes I made early in my career was to create exhaustive data quality assessments that failed to motivate and engage the business community. It was only when I tweaked my approach to tools, strategy and storytelling did the business finally sit up and in most cases, take action.
In this blog post I want to share some background to the data quality assessment process so that you can understand the fundamentals.
At the Experian Data Migration Roundtable, we saw two very clear themes emerge. Firstly, the need for an impact assessment before starting a data migration project and secondly, on using data migration as a design for data protection. So in Part 1 I'd like to kick off with a detailed look into our discussions around impact assessment.
Continue reading The continued need for impact assessment in data migration