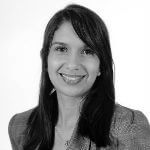 Marvi is Experian Data Quality's Senior Data Management Consultant. With a wealth of experience in Data Software Integration, Data Strategy and Development, Governance and Privacy.
November 22, 2016
Experian wouldn't be the company we are today without the people who make up our team – so we thought it's time we introduced these individuals, their stories and their talents.
So sit back, share a coffee with us while we chat with Marvi Martinez Villegas, our new Senior Data Management Consultant.