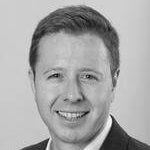 Michael is Experian Data Quality's Digital Marketing Manager. Over the last 4 years, he has worked in several technology businesses and achieved a Post-Graduate Diploma in Digital Marketing. Michael's primary focus is on digital marketing and helping clients and colleagues get the best from their growing data.
June 29, 2017
It was June, and Europe was turning to summer. Excited, I was walking around the office, when my colleagues caught my good mood. "What are you doing this weekend?" I answered "Cycling from London to Paris!" I have ridden cycling races and sportives, but wasn't sure what to expect from my body, my mind and my companions. After 3 days, 36c heat, 20 energy gels, 2 punctures and 270 miles in the saddle - I learnt these three things.
January 10, 2017
Data migration, Data governance, Data quality, Data regulations
With 2017 underway, we decided to have a look back at what data subjects proved most popular with you during 2016. Below are our 5 most popular articles from last year covering data migrations – hurdles to avoid and approaches to consider; measuring data quality and the 6 key dimensions for assessment; data governance responsibilities for data quality success and of course GDPR, perhaps one of the most talked about data subjects of 2016. See if you missed any of the key talking points.