Today we are talking to Pavan Rao, our Senior Data Management Consultant about what his job involves, the parts he enjoys the most and the major changes he can see coming in the data quality industry in 2017. This is the second part of our series, introducing you to the people behind Experian, you can read our first interview with Marvi Martinez Villegas here.
What is your job at Experian?
I work as a Senior Data Management Consultant at Experian and I love helping our clients solve complex business opportunities such as fulfilling data governance requirements or executing a company-wide data migration project. I also provide more tactical support where needed such as standardising data sets or removing duplicates to improve data quality. I help clients achieve this using our wide range of data quality products, but nearly always using our data management solution Experian Pandora, as it provides high quality analysis and rapid time to value.
What part of your job do you enjoy most?
Delivering the more complex solutions for my customers is the area I enjoy the most. Every situation tends to be different so it keeps me on my toes. Every data migration for example, tends to have different obstacles and requirements depending on the situation – whether they be technological, political or even legal.
I was a data manager myself before I joined Experian, so I have had first-hand experience of many of the problems my clients face. I feel this 'practitioners' experience enables me to help find them a solution or possibly a temporary work-around easier. Finding solutions to these complex problems can require a lot of work and this is why I enjoy them the most.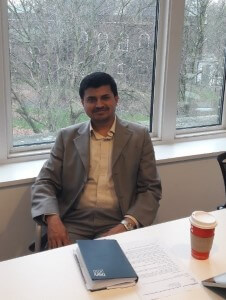 Why did you join Experian?
The main reason is my love for data analytics, especially anything involving data modelling, data analysis and predictive analytics. When I was job searching, I found Experian were one of the key players in all these areas. Since working for them, I have enjoyed the unique way they handle themselves in these areas – constantly innovating and looking forward to the next big thing. I love the variety that then brings to my job.
What are the most common data problems you encounter?
The majority of businesses that I have worked with encounter challenges when loading or ingesting customer information into a single 'data warehouse or data lake'; and when they try to create a Single Customer View (SCV). Many of these problems are caused by data coming from different sources, in different formats, lack of data standardisation, and poor quality of data like duplicate records. These problems can have a significant impact on businesses; hindering people in reporting and making key decisions as the decisions are then based on inaccurate data. The Experian tools (and me) help them with this.
What do you think is the biggest data issue facing businesses in 2017?
The biggest data issue facing businesses this year is being ready to comply with the new European data regulations. It is not just the compliance aspect but also the way organisations handle customer data, the way they manage the quality of their data, the data governance behind it – businesses that fail to comply may be imposed with heavy fines. It's an issue that business across all industries are facing as they all have customer data that needs to be handled which involves GDPR. Although some businesses have started looking at it, most are not ready. Experian has a great opportunity to solve that and make them aware and ready for it.
How would you describe working in data quality management in three words?
It is Awesome!
Thanks for sharing a coffee with us, Pavan!

Connect with Pavan - LinkedIn
If you would like to join our talented team, have a look at our current job opportunities.