Experian wouldn't be the company we are today without the people who make up our team – so we thought it's time we introduced these individuals, their stories and their talents.
So sit back, share a coffee with us while we chat with Marvi Martinez Villegas, our new Senior Data Management Consultant.
What is it that you do?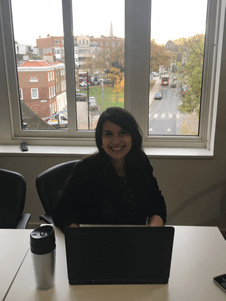 In a nutshell, I help people solve their data management problems. Businesses create huge data lakes, and sometimes SMEs and Enterprise businesses aren't sure exactly what they have, or how to drive business growth from this valuable customer data. So I work together with our clients to help them cleanse, standardise and profile their data, before we help decision makers, data experts and other data users understand how they can get the most from all their data.
How do you help business with their data challenges?
The first and most important step for me is to listen to the customer to understand what they need and why. Then, I assess the magnitude of the problem and consider all the different alternatives that we can offer combining our products and services.
One of the main things we help businesses to do is analyse their customer database using one of our data quality tools 'Experian Pandora'. We can then show them where there are issues within their customer data. It doesn't just stop there; we then work collaboratively with businesses to solve these issues - this might be helping people achieve a single customer view. My ultimate objective is to help our customers get the most value out of their data.
Can you quickly tell us how you got started in Data Quality Management?
Sure! I have had quite an interesting career path, and I think this has really helped me in my role. After completing a degree in computer science, I developed my technical coding skills as a software developer in Venezuela, which is something I love doing. I then decided to study my Masters in Business Admin at Manchester Business School, and gained some commercial experience by managing customer data for a global manufacturing company; this really taught me to understand what our customers really expect from us.
What drew you to Experian?
Experian first came onto my radar whilst I was leading a data quality initiative, and researching thought leaders and best practice in data quality management - and kept finding Experian.
It didn't take much time into my new role to see why EDQ is a pioneer in this fast-moving vertical. I've been impressed with the levels of passion and great diversity of people. Working at Experian, I've met people from all over the world, with really different backgrounds and experiences. From the very first day I felt welcomed and part of the team. This not only creates an enjoyable work atmosphere which motivates me to come to work, it makes me want to do my best to be part of this amazing and supportive team.
What skills make you successful in your role?
Predominantly, it is being able to analyse issues and find feasible and convenient solutions that meet the needs of our customer. However, one clear advantage is my experience of working in different industries as a technology customer myself, this allows me to understand what our customers really expect from us beyond what they originally requested. In the majority of cases, customers are looking for a business partner more than an external consultant that is only there to complete a task.
What do you like most about your job?
The variety; one day working on projects, the next problem solving and helping customers with their data challenges. No two days are the same.
What piece of advice would you pass onto someone thinking about a career as a data management consultant?
Clearly you need to have a passion for data – but these days you also need a combination of analytical and problem solving skills as well as soft skills. You will always have a lot of data, but your biggest challenge is deciding what is useful. So take a step back and don't be afraid to ask why?
Thanks for sharing a coffee with us, Marvi!