The opportunity of international expansion is becoming a much more feasible and viable option for UK businesses. As stable growth returns to our economy, looking to expand across the waters can be an enticing prospect. It's these overseas markets that are offering UK businesses the chance to increase brand presence, customer volumes and revenue at a rapid rate and at a lower initial cost.
However, much like any strategic decision there's always going to be risk involved. One vital component to your expansion strategy is to ensure you care for your international data just as much as you do your domestic data.
Accurate data will give you visibility of who your customers are and how to communicate to them, help prevent fraud as well as ensure accurate delivery of goods or services. Failure to do so could not just leave you with reputational damage but you could also find yourself with hefty penalties. I've put some top tips together as well as a do's and don'ts travel checklist to help you take the first step with your international offering.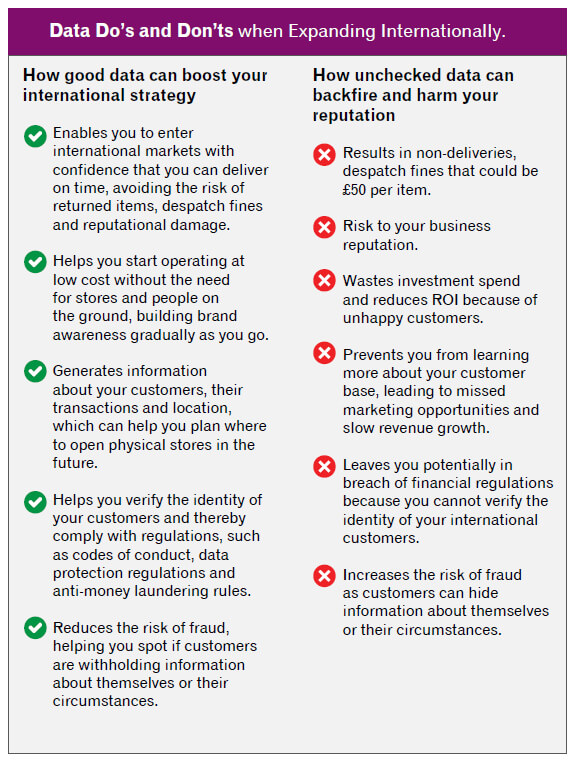 Here are some more tips on how you can use your data to help you make a success of your international strategy...
Firstly, enrich it - Data enrichment will help you builder a clearer view of your contact data through the use of geolocation and demographic capabilities.
Use it to understand your customer - Accurate addresses combined with transaction and geolocation data can help you see where your customers are and what sort of purchases they are making.
Prevent fraud - Screen potential customers to tackle potential fraud and to abide by regulations now and in the future.
Consider the format of international addresses - For example in the USA, mail must include the state and the address in the ZIP code. In Germany the street name comes first, followed by the house number. International address validation solutions are available and will ensure your products or services reach your customers.
In the insurance, banking or gaming sector? Here are a couple of additional tips for you...
Insurance - Cross checking addresses with other records and location data can help establish whether your new customers are hiding anything about their circumstances.
Banking and investment banking - Address validation can verify the identity of customers and investors, helping you comply with financial conduct and money laundering regulations.
Gaming - Verifying a prospective customer's address demonstrates social responsibility and provides a reference should further investigation to verify the applicants age is required.