It was early-June, and Europe was turning to summer. Excited, I was walking around the office, when my colleagues caught my good mood. "What are you doing this weekend?" I answered "Cycling from London to Paris!" This was usually followed by "WHY!?" I explained that I was riding to raise funds for Bowel Cancer UK (a condition that has affected a family member), and it was also a personal challenge that I've always wanted to test myself against. I have ridden cycling races and sportives, but wasn't sure what to expect from my body, my mind and my companions. After 3 days, 36c heat, 20 energy gels, 2 punctures and 270 miles in the saddle - I learnt these three things: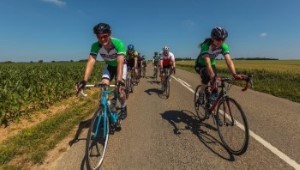 1) The power of teamwork
It wasn't long before we experienced our first challenge. Day 2 - with the temp at 30c and 93 miles in the legs, the second group of riders were about to start when they spotted a mechanical issue that threatened to end the L2P adventure for one person. Not wanting to leave him behind, they used their smartphones to find bike repair shops and we rode back into Calais. Eventually, we set off about 1.5 hrs behind the first group, taking hard turns on the front to try and close the gap.
Then suddenly, on an empty road there was a loud metallic sound and shouting from behind. I turned around to find two riders prone, one in the road and the other on the verge! Luckily, it was mostly egos that were bruised, and the group helped check for bodily damage, fix punctures, straighten bent brakes, share water and jokes to settle the injured riders. On a long ride like this, we all had our own battles, whether it was a summiting a hill, keeping hydrated and fed, pressure points, mechanical issues or crashes but the group never stopped working together and motivating each other.
2) Data and technology rule
When I started road-riding several years ago, I'd draw my route and feed stations on a map and stuff it in my back pocket. Riding to Paris, it struck me just how reliant we all were on data and technology:
Navigation – Most of the group rode with GPS devices, smartphones and pocket battery chargers. Having someone with GPS on point really made a difference as the group could keep rolling at junctions rather than checking directions and losing valuable momentum and time.
Communication – During the ride, the group would often split into two groups, and sometimes more when we had mechanical issues. We relied on the use of WhatsApp and location 'Pins' to show other riders where we were - particularly important in the French heat (36c) with many villages deserted and cafes closed.
Performance – With each day's ride over, the first thing most people would do was save their ride on their GPS or smartphone to make sure they didn't lose their ride data. Like most riders, once showered, I would check my ride data on Strava to see how many miles I had covered, how long I had been riding, how much climbing I had done, and how many calories I had burnt. Then I'd check other my teams ride. It was addictive.
Giving back – With less than a week to go our fundraising efforts didn't look too healthy, but as excitement built and word about our challenge started to spread among family, friends and social networks… the donations began to come in. Whilst in France, we shared updates on our progress and monitored our fundraising– it was hugely motivating for the riders to see the donations roll in (P.S. - if you'd like to donate, the Fundraising Page is still open).
3) Personal data is everywhere
As I reflected on our achievement, I was reminded how much we had relied on technology and data for our journey. Whether it was for navigation, keeping in touch, benchmarking our performance, finding a restaurant or bike-repair shop or even recording our experiences (usually with a good old-fashioned selfie). Much of the technology we used relies on personal data that requires consent to access and share personal data.
I wondered if the riders were aware of the imminent changes to data regulation that will impact personal data in May 2018 - and what these technologies and other businesses were doing to prepare themselves?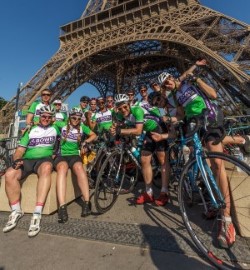 The change represents a shift across the world towards a culture of safeguarding personal data. It is imperative that organisations that offer goods and services to EU citizens, and that process their personal data, are compliant.
A quick poll of the riders showed that most people (consumers) had heard of the changes, but didn't know what it included and what impact it would have. From a consumer's perspective, it gives them back the power of their personal information.
Looking at the business perspective, the situation is more worrying. In the year since DataIQ and Experian last surveyed companies about GDPR, there has been a modest increase in the numbers saying they are very aware (50 per cent) or somewhat aware (36.3 per cent) of the new law. You can read more about consumer attitudes and business preparations in our Global Data Management Research 2017.
Paris blues
It's hard to describe how you feel after L2P, when you've stretched your limits, and returned to normal life. Part of you is glad that the aching has stopped, but the other part is craving new experiences, the banter, pushing your physical limits and helping a charitable cause. The good news is that we are meeting this Saturday morning for a ride – to relive some of these moments and compare ride data over a coffee. I hope this has inspired you to get out from behind your desk and help support charities. Hop on a bike and have some fun along the way – if you'd like to donate to Bowel Cancer UK, here is the Just Giving page.
Photo credits: Jaroslav Mara http://instagram.com/jaromara/