When working with our prospects and customers interested in email validation, there is one common objection we often see. Marketers are somtimes reluctant to implement real time email validation into the forms on their website because they are nervous that it will negatively affect conversion and increase shopping cart abandonment.
As a result, we've seen marketers forgo real time validation and put their sender reputation risk by collecting invalid emails and using them in their marketing campaigns.
So are their fears reasonable? Does real time email validation negatively impact converisions? To get a definitive answer once and for all, we decided to test it ourselves.
To start, we removed email validation from our forms for 20 days. This gave us a baseline for how many incorrect emails would enter our system if we didn't validate them in real time. We then followed up by implementing validation once again for the same time period over the next month.
The result: When comparing the 20 days without validation to the 20 days following with it, not only did we not see a decrease in conversion rate, but also we actually saw an increase in conversion rate of 55% from 2.07% to 3.22%. To clarify, we only measured visitor to lead conversion in this test, ecommerce transactions stayed consistent with email validation enabled on the forms. You can see the results below: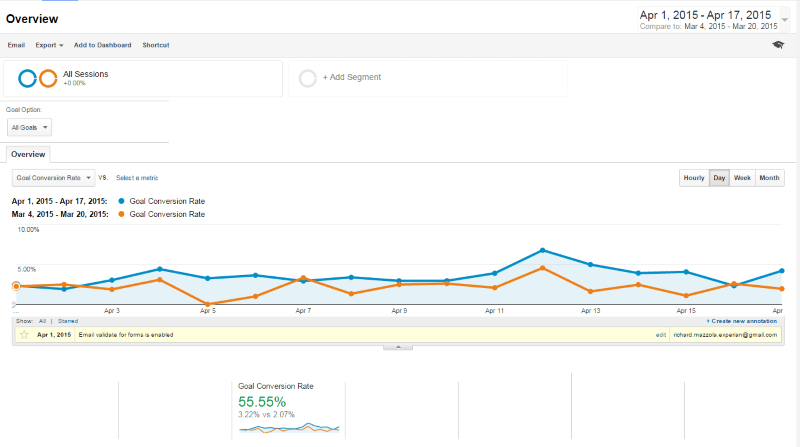 Initially, this surprised us. We decided to ask our prospects why they felt more comfortable filling out forms when their email address was being validated.
When people are attempting to contact a company, they felt more comfortable when they were 100% confident that the company would be able to contact them.
The functionality shows the prospect that your site has a level of sophistication. It tells them that you have a best in class offering, and you are committed to clear communication.
We found that when people entered an incorrect email address, they almost always retyped the correct email. There wasn't a measurable drop-off here. Even when they entered fake names, the email address was correct.
78% of companies have experienced email deliverability problems in the last 12 months and we found that implementing real time email validation does not impact conversion rates. While you should conduct a similar test within your organization, we found that the risk to our sender reputation was much larger than the perceived risk to online conversion rates.
If your organization still can't justify implementing real time email validation, you should routinely clean your email lists.