You probably don't think about receipts very often (unless of course, you happen to be shopping at CVS where impressively long receipts are their thing). No one talks about receipts because it's such a ubiquitous piece of transactional information that we don't imagine purchases without it. Receipts are typically handed out in paper form at the end of any transaction; however, email and SMS receipts are growing in popularity.
Using these channels can do more than just reduce paper waste. By using emails and text messages to send receipts, your organization can engage, interact and offer your customers additional value through a medium with almost 100 percent open rates. Read this blog post to find out how the smartest businesses are using eReceipts and text receipts to their advantage as well as what they can improve on.
1. Uber
A shining beacon of light in a sea of flavorless transactional emails, Uber does their eReceipts beautifully. It has everything you could possibly want in an eReceipt—total cost, specific transactional information pertaining to a transportation company (in this case it's mileage, trip time and departure and destination addresses) and payment type used. And while most customers would have been happy with just those pieces of information, the use of visuals in this email makes it far more aesthetically pleasing than their competitors.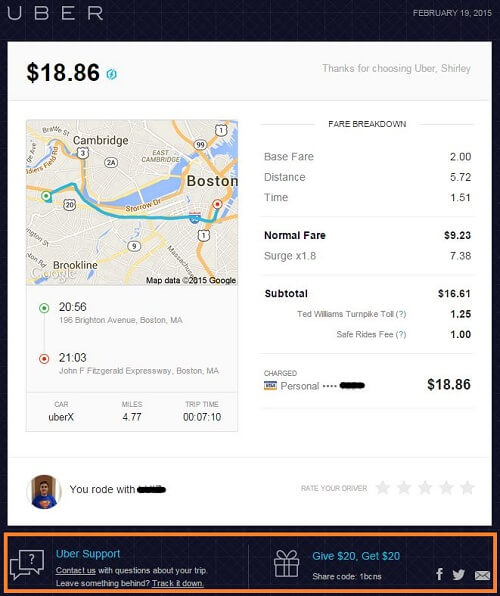 But that's not even what makes this transactional email great. By including a customer support section as well as referral and social share options, Uber has transformed a simple eReceipt into a call to action. It's ingenious, really. Of course, their visual appeal and knowledge of what pieces of information to include in their emails are only possible because of their level of insight into their customer base.
2. Spotify
What Spotify does well is keep their eReceipt straightforward. But maybe too straightforward. Here is an example of an email that could do with including more visual calls to action.
For example, there could be social sharing buttons with a CTA along the lines of, "Think we nailed your taste in music with this playlist? Share it with your friends!"
Another example would be having CTA visuals that drive people to sign up for their email communications.
And since I've signed up to do a $0.99 three-month trial for Spotify Premium, some sort of CTA compelling me to continue my membership after the three months are up would also be very helpful.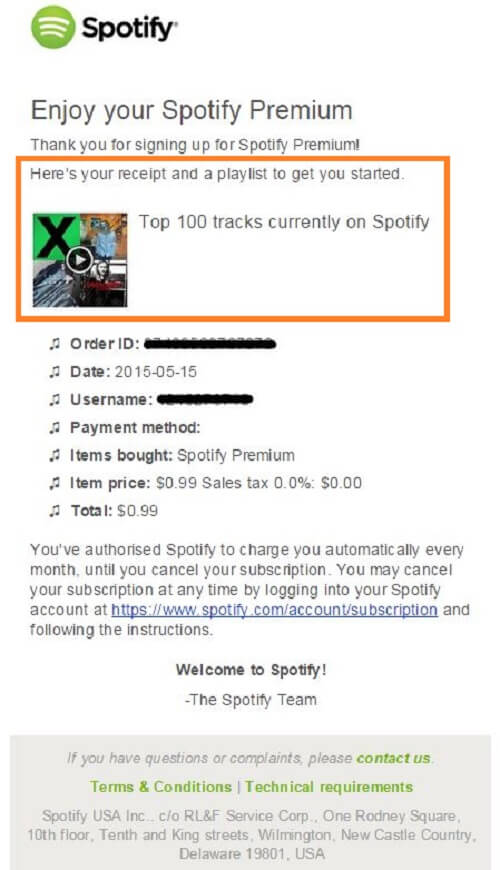 Spotify gets the job done with this eReceipt, but simply getting the job done won't prompt people to feel your product. And getting customers to feel good about your business is what keeps them coming back.
3. Amazon
The eCommerce juggernaut doesn't release financials often, but what we do know about Amazon is that it accounts for 30 percent of the eCommerce marketshare in the U.S. Their order (receipt) and shipping confirmation emails are nearly identical, and they don't bother to change it. Some may cry, "Laziness!" But with the amount of consumer information they have, there's clearly rhyme and reason to why they keep the emails so similar.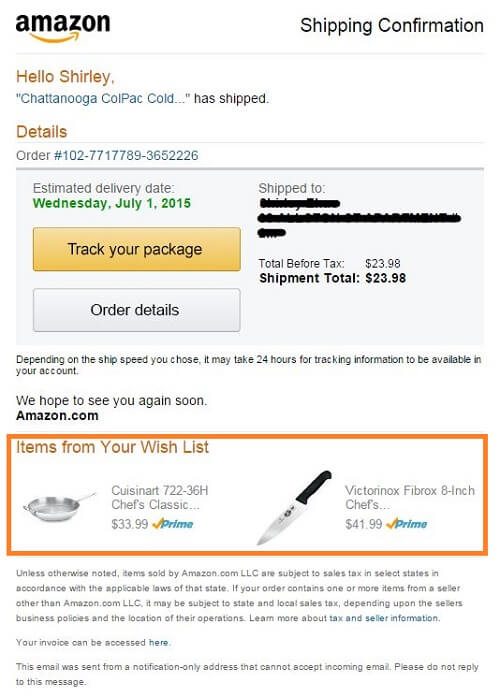 There's an obvious informational component to this shipping confirmation email; the big order detail buttons are center stage to make sure shoppers can't miss it. However, the most valuable section in this email is the "Items from Your Wish List." Why? Because Amazon knows that reminding customers of items they saved for later may be enough to get them back on the site—and once customers get back onto the site, it's down the eCommerce rabbit hole they go.
4. Square, Inc.
More and more businesses are making use of text receipts. Square, Inc., shown below, is just one example. The different businesses can make use of Square's services to send text receipts after a transaction.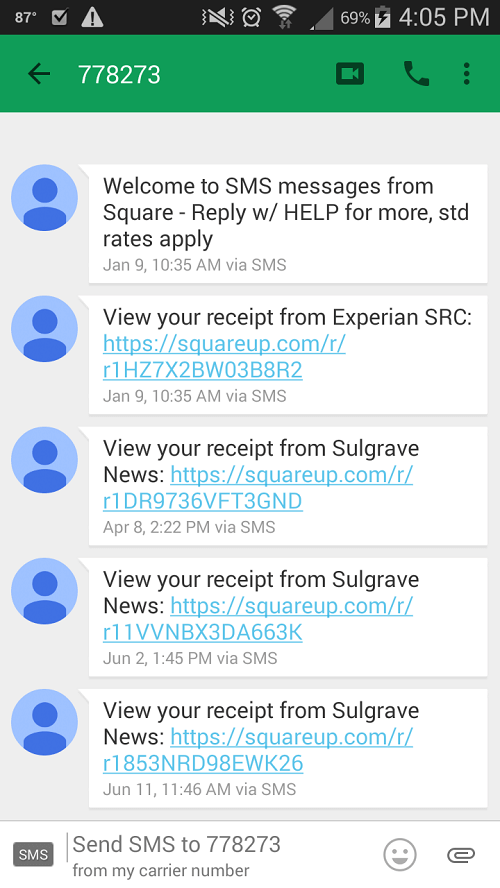 What they can do differently, however, is work with each other to promote their respective businesses. Sulgrave News, for instance, could use text receipts as an opportunity to inform me when I can pick up my daily newspapers.
eReceipts and text receipts are among the most-read forms of communication. Most customers will end up throwing away or losing their paper receipts. Not only are digital receipts more environmentally friendly, when used correctly they are great ways to get to the customers to reengage in a location that they won't typically a suspect a CTA to be hiding.
Unfortunately—and we hate to be the bearer of bad news—you can't make use of these takeaways if you don't have correct customer emails or mobile numbers. Before sending off awesome transactional emails with superb and subtle calls to action, make sure your contact data quality is accurate and complete—and we can work with you to accomplish that.
Want to see our email verification solution in action? Try it here for free.