The Baymard institute has documented that the average online shopping cart abandonment rate is a whopping 68.53%. The reality is that the usability issues that cause that number to be so high are largely avoidable. Most retailers struggle to focus on common usability issues across core cateogries such as data input, copywriting, layout, navigation, flow and focus.
In an effort to put an end to high shopping cart abandonment rates, we have put together 10 principles that you can follow to ensure that your users complete the buying process with as little friction as possible.
1. Show full or estimated price as early as possible
Even if you need to apply things like shipping, tax and additional charges later in the order process, you should always show a full estimated price as early as possible and incrementally build the cost throughout checkout. Otherwise, you surprise the user by adding bulk costs at the point of purchase which can increase abandonment.
2. Don't excessively highlight coupon codes
In a checkout usability study conducted by the Baymard Group, test subjects complained, "I find it slightly annoying that they're flashing these coupon code fields as much as they do, because it is like, 'You should have a coupon, you could get this cheaper if you knew this code'… I don't". By focusing on your coupon options this can influence users to do more research to try and find discount codes, better prices or alternative product offerings. If a user feels like they are about to overpay – they will go somewhere else.
3. Make the guest checkout option most prominent
Don't force users to create an account before they have purchased any goods or services from you, if possible. Transparency is key here – you don't want users to feel like they have to register to purchase. Once their purchase is complete, you can offer an account creation option on the thank you page. This creates trust between your brand and the user, since you are only asking for additional information once they've done what they came to your site to do.
4. Ask for email address once – and get it right
Many online retailers ask users to enter an email address, then reenter it again to confirm its accuracy. Reports have shown that adding just one form field can decrease conversion rates by up to 5%. By validating the email address as it entered, it ensures the email address is correct and that the user only has to type it once. Not only will this increase conversion rates – it will ensure that you can effectively market to that individual after they convert.
5. Auto complete (and detect) address, city, state and ZIP
As mentioned above, users are more likely to convert if they don't have the burden of filling out lots of form fields. By auto completing address elements, you can speed up checkout, reduce the number of form fields that need to be completed, and validate the address information to ensure that the user's order reaches them successfully.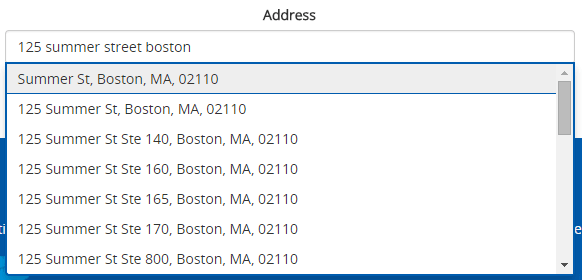 6. Avoid the use of default button text
Unbounce, a landing page optimization service, explains buttons that use the word 'submit' have almost a 3% decrease in conversion rate. While you want to avoid words such as 'submit' you also want to ensure you use contextually relevant phrases to set expectations with the user such as, 'proceed to checkout' and 'complete purchase'.
7. Automatically detect and select the customer's credit card type
Your most crucial usability elements exist on the payment page, which for PCI compliance reasons, can often be the page that you have the least control over. However, it is possible to identify and select a user's credit card based on the first digits entered by the user.
8. Newsletter or subscription options should be opt-in
The Baymard institute reports that, "8 out of 10 test subjects made a negative comment about pre-checked newsletter fields". Test subjects felt it was a characteristic of an untrustworthy, spammy site. Additionally, when someone opts into communications it is a clearer signal of an engaged user.
Ultimately, getting a newsletter sign up isn't worth portraying your brand as spammy when a user is about to share their credit card details with you online.
9. Include user assistance descriptions to form fields
Address line 1, address line 2, zip +4, CSV, CVV, security code, suffix – what does it all mean?! Your users are thinking the same thing. By adding contextual descriptions for form fields you can give them confidence that the information they are proceeding is accurate and speed up their time to checkout.
10. Use contextual error handling messages
As much as you try to fight it, it's inevitable that errors will occur during checkout. The impact that errors will have on your business are largely dependent on the messages delivered to users. When an error occurs, a user will be frustrated, so it's important to clearly describe why the error occurred and what they can do to fix it. You also want to make sure the error message is displayed where the error occurred. Don't make users work to find the error. There are some great and (not so) great examples of this below.
Bad Error Handling: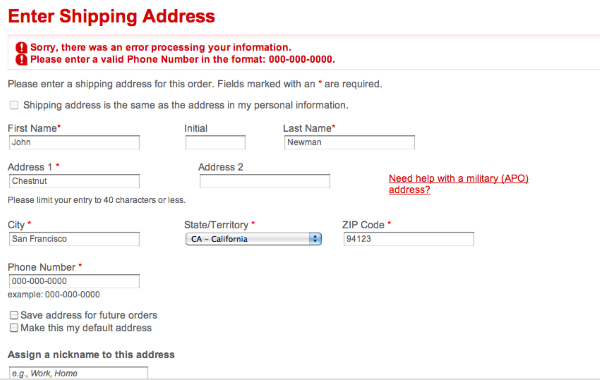 Great error handling:
Have you implemented any of these techniques on your site? We would love to hear about your business, results and other techniques you've tried in the comments section below.
If you are particularly interested in principle #4, "Ask for email address once – and get it right," you can learn more below.