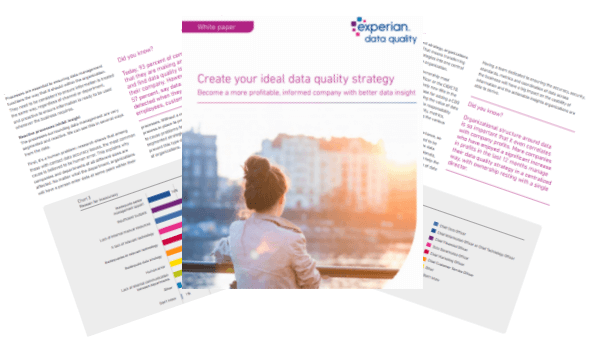 Today, data is being used to influence a number of business decisions, improve operations, and better understand customers. In order for a business to use data to its full potential, you need data that is accurate and complete.
What is a data quality strategy?
A data quality strategy is crucial to maintaining and improving the quality of your organization's data. A data quality strategy can help your organization visualize and act upon actionable insights to move your business forward.
Ninety-three percent of organizations say they are making an effort to discover data quality issues in their company, with more than 57 percent of issues being detected by employees, customers, or prospects. Building a data management strategy is critical to ensure data is fit for purpose.
Why organizations need a data strategy
Organizations need a data strategy because the most common cause for contact data inaccuracy is human error. You can eliminate human error and reduce the high degree of inaccuracy that exists today by using technology to develop a more sophisticated approach to data management.
In our global data benchmark report, we learned that companies with more sophisticated approaches to data management benefit from more accurate information and increased profits.
How to build a data quality strategy
When developing your data quality strategy, take a look at your organization's current data quality efforts and determine what's going well and which areas you could focus on improving. Data quality is an ongoing effort requiring constant maintenance, across your organization.
In this white paper, you will learn:
The levels of data quality sophistication
Tips for improving your data management strategy
How to become a more profitable, informed company through better data insight