Ninety-five percent of organizations see impacts in their organization from poor data quality. This statistic is just one of many findings that our annual 2019 Global data management research report unearthed.
The issue at hand isn't about needing data, but dealing with an era of data explosion and disaggregation. Poor-quality data hurts the bottom line, preventing data from being the strategic asset it should be. The study explores the state of data management in different business functions and recommends actionable strategies on how to take control of data management in the digital age.
Here are some of the key highlights:
1. Poor-quality data prevents organizations from achieving their #1 priority.
Fifty-three percent of businesses surveyed say their number one business priority over the next year is customer experience. This even outranks other business objectives, like reducing risk or gaining cost efficiencies. Unfortunately, 69% of organizations claim that their flawed data hinders them from providing an excellent customer experience. Their biggest struggles were keeping up with the sheer volume of consumer data, constantly shifting consumer demands, and inadequate, inflexible technology.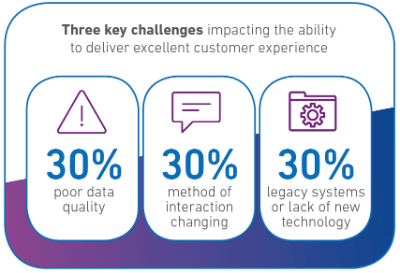 Having a single customer view (SCV) is a leading driver for improving customer experience. However, the definition of an SCV across the business is changing. It could be a consistent view across the business, vary by department, or even individual. Depending on the department or given task, the individual may need different information on the customer.
The data shows an overall trend of businesses moving to a more contextual customer view, focusing more on the needs of the individual customer rather than just the needs of the masses.
2. On average, organizations believe 29% of their data is inaccurate.
Trusted data is not yet a reality for most businesses. Nearly one-third of current customer and prospect is believed to be inaccurate in some way. Unsurprisingly, the biggest culprit was human error.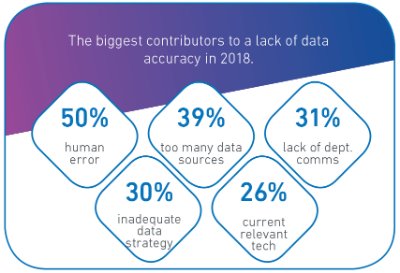 This distrust hurts the bottom line. Ninety-five percent of organizations say that they see negative impacts from poor data quality, resulting in wasted resources and additional costs. It is our belief that this high degree of inaccurate information is paralyzing businesses, preventing them from making strategic decisions.
3. 75% want data management to be with business users, not IT.
Eighty-nine percent of organizations struggle with managing data quality, which impacts its overall value. This involves everything from trusting the data to accessing and effectively leveraging it. Eighty-four percent say that IT is the primary or only manager of data. However, 75% say that responsibility for data quality should be across the businesses with only occasional help from IT.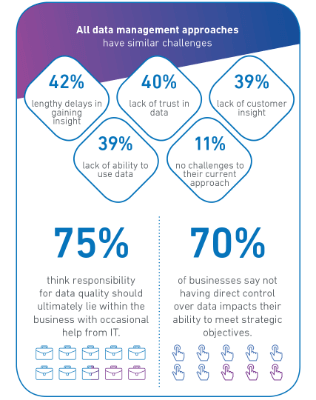 There's a clear desire to shift data management away from sole IT ownership. The IT department has its own priorities, such as securing the business. Fifty-six percent feel that IT doesn't fully understand the data management needs of business users, and 70% claim that a lack of control impacts their ability to meet strategic goals.
One way to shift to a decentralized model is to appoint a Chief Data Officer (CDO) that reports into the executive group. The CDO isn't intended to replace IT, but rather ensure the right people have the right tools to manage or access appropriate data and deliver in a way that will provide the best possible business outcomes. This person doesn't have to be a CDO by name; they can also be a CTO or department head. The main takeaway is that decentralization isn't a one-size-fits-all model, but it is intended to give the business more control of its data.
Seize back control in the data explosion era
Organizations won't be able to achieve their full potential if they are constantly hindered by poor-quality data. Our 2019 Global data management research report assesses the state of data management across multiple organizations and proposes clear strategies to improve people, processes, and technology regarding data management. Taking control of data will help organizations win in a complex marketplace.
Download this report today to read our expert analysis and learn how you can gain control over your data.