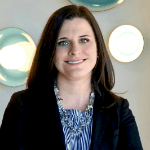 As the Analyst and Public Relations Manager for Experian Data Quality, Erin Haselkorn leverages her understanding of data quality to help organizations better understand leading data management strategies and how to create actionable insights. She is the author of numerous data quality research reports, guest blog posts and articles. During her seven years at Experian Data Quality, Erin has helped numerous clients gain a deeper understanding of their customers through data and analytics. Before Experian Data Quality, Erin worked at Granite Telecommunications. Erin holds a bachelor's degree in communications from the College of Charleston.
Last week, I had the opportunity to speak with Mike Delgado from Experian for a 'Data Talk' interview. We chatted about the 2017 Global Data Management Benchmark Report, and you can see the video of that interview in this post.
This week I was able to attend the Gartner Data and Analytics Summit in Dallas. For those of you who weren't able to join this meeting of data professionals, I thought I would share a few of my key take-aways from the event.
Continue reading Making abundance from scarcity: Insights from the Gartner Data and Analytics Summit
If you're an email marketer, chances are you have thought about the quality of your contact email list. It is one of the most important assets you have. Without an accurate list, you could end up in the spam box, with a bad sender reputation or flat out unable to reach your subscribers at all. Never fear, there are a host of vendors out on the market who are more than happy to help you validate that list and improve your email hygiene.
Continue reading What to look for when choosing an email validation vendor
Information governance is not the darling of IT topics. While everyone wants to talk about data insight and analytics, very few people want to talk about the governance or regulation around data that it takes to have a successful analytics program. Without a foundational program in information governance, organizations will fail at analytics.
Continue reading How can we make information governance interesting?
Marketers have a number of challenges on their plate, but one theme that continues to come up time and time again is data. This year's Experian Marketing Services Client Summit reminded me that data is not going away any time soon. But to gain insight, marketers are going to have to get creative and think about the consumer and data more holistically.
Continue reading That's a wrap: Key insights from EMS Client Summit
Marketers are dealing with more data challenges than ever before, but they may soon get some much needed help. The Chief Data Officer is coming to the rescue, evangelizing change and improving data usage across organizations. Next week I am heading to the EMS client summit to chat about this revolution and help marketers better understand the power of working with the CDO.
Continue reading A modern marketer's new best friend: the chief data officer
The data quality market continues to change at a rapid pace, with businesses demanding more from their information and looking to leverage analytics in interesting new ways. Data will continue to be a critical element as businesses look to transform operations and become more digital.
Continue reading Rapid data quality change is helping business transformation
Last week, I had a chance to speak with colleague Mike Delgado regarding the changing world of data and data management. I recently managed a global research project for Experian Data Quality where we asked 1,400 people from eight countries about their data usage and data management practices. The results were a story of evolution and rapid change.
Continue reading Data usage is changing and management is evolving with it.
Outdoor gear and sporting goods retailer REI did something shocking earlier this week; they cancelled Black Friday. At first you look at this plan and think, what is REI doing? As a retailer, can they seriously afford not to process orders on a day as important as Black Friday?!? However, upon closer examination, it may be described better as an extreme customer loyalty push.
Continue reading Connecting with your consumers can mean more than just sales
Data is one of the most strategic assets businesses hold today. When used appropriately, it can allow for a better customer experience, improved business decisions, operational efficiency and much more. Organizations that are struggling to use data for analytics are falling behind in more than just technology, they are failing to utilize everything at their disposal to run an effective company.
While data continues to grow in importance for businesses, the methods for managing information are just now starting to catch-up. In years past, information was managed primarily by individual departments with vastly different technologies and processes. While that is still the case today in a wide number of businesses, more are starting to realize that data across the organization needs to be consistent and accurate. That means having a big responsibility for data at a higher level, centralized governance and regulation around data, and processes to keep information entry and management consistent.
Continue reading CIOs face increasing responsibility for data management