The desire to become data-driven has never been stronger. With the changing consumer, digital business, and an increasingly rapid pace of innovation, companies have to be faster and smarter than ever before. They need accurate and reliable data to better engage consumers, operate more efficiently, and make better decisions. However, that is a far reach for many organizations, as our new research on data enablement shows. Most companies lack the trusted data foundation required, which is creating a major roadblock.
In fact, 69 percent of organizations report struggles to become data-driven and that it takes too long to get actionable insights from data. We spoke with more than 500 data practitioners to understand how they want to leverage data across their business and if they are looking to enable more individuals to become data-driven.
Here are the major takeaways:
1. Pump the breaks if you have poor data quality.
Organizations without a strong data quality foundation struggle to reach their fullest potential. While our research shows 93 percent of respondents think they have made progress with data quality in the last 12 months, we still see a low level of data quality maturity overall. Only 11 percent of businesses believe they are mature in their data quality initiatives.
However, the organizations that have a higher data quality maturity are more likely to focus on data management, experience fewer project delays, and less likely to see data quality undermining key initiatives.
Getting a profile of your data and understanding your current quality levels is a great place to get started. Consider robust data quality management tools that can give you the insight you need to improve your data quality.
2. Siloed approaches are still the overwhelming majority.
Everyone across the business wants to be data-driven, but some departments are investing more than others to make that a reality. Much of the investment in data management happens within individual business pockets. Sixty-nine percent of companies report most data management initiatives occur in individual departments—and only a few on an enterprise level.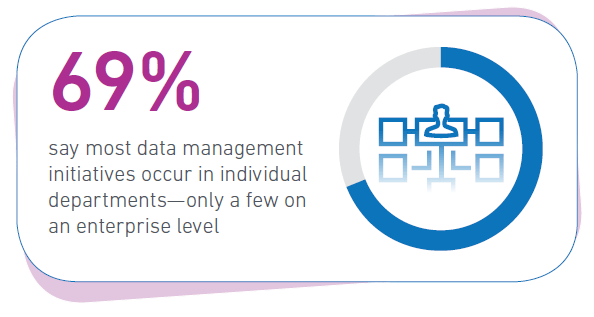 While different departments have different needs for leveraging data, there is a risk that companies may not leverage best practices across the business. This can lead to a lack of insight and a lack of trusted data.
Where possible, try to provide some consistency to your approach. This is where a strong practice around data governance and data enablement can help improve communication and create a common set of standards for the business to operate within.
3. Data debt is dragging down the benefit of new tech.
Data debt is a lot like technical debt. If you are operating with a large degree of data debt, it doesn't matter how much you invest in projects like machine learning, analytics, and AI. Without a foundation of accurate data that is governed appropriately, you will never become data-driven.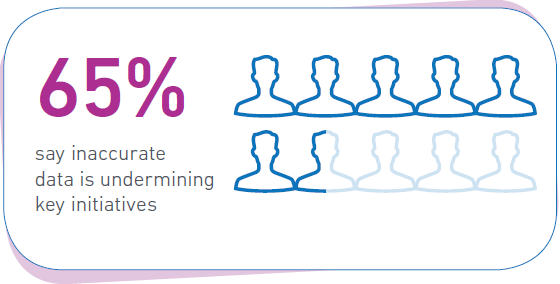 Tackling data debt starts prioritizing data quality and enabling users across your business with access to trusted data. In addition, once a solid data foundation is in place, training becomes extremely important. You can have the best technology and data in the world, but if your team doesn't know how to interpret that data, it can be a real challenge. We found 78 percent of businesses are currently working or intend to undertake data literacy initiatives in the next 12 months.
4. There are projects and there are disciplines, but fixing bad data requires a holistic approach.
More than 95 percent of those organizations that have undertaken these initiatives report better business outcomes, including compliance with regulations, better decision-making, and an improved customer experience. That is a great effort! While any initiative around data is positive, we do see projects and disciplines. A project is something done as a one-off, but a discipline is more of an ongoing practice. When it goes to these initiatives, we see companies split 50/50 on whether they are approached as a project or a discipline.
We found organizations that are mature in their data quality are more likely to approach data management as a continuous set of processes vs a one-off project. While it is always important to experiment, be sure to scale successful one-off projects so they continue to benefit the business.
Becoming a data-driven organization is a massive and holistic change, but there are changes you can make today to empower your business.
---
Read the full report and learn how you can get started with data enablement.