As marketers, one of the top things we are worried about is the new data-driven age. Information is changing the way we function and creating entirely new roles and responsibilities within our industry. I recently attended a Garter webinar, Focus on: Data-Driven Marketing, where they said that data causes the most anxiety for marketers.
We are left wondering:
Do I have enough information to execute the types of campaigns and messages I want to?
Am I gaining a full enough understanding of my consumer to really engage with them?
Is the data I am using complete and reliable?
Some of these challenges directly relate to the level of sophistication we have around data quality. Data quality is really the foundation of any analytics program. Without it, we are left with unreliable information that provides us with more misinformation than any benefit.
The degree to which information is accurate can vary drastically by department or organization, depending on the processes and rules that are in place to support data quality standards. However, according to a recent Experian Data Quality study, on average U.S. organizations believe a quarter of their information is inaccurate.
For marketers, that degree of inaccurate data can have dramatic impacts on their ability to function in today's marketing reality.
There are a number of ways you can determine if data is trustworthy and if you really have an accurate understanding of their customer base. However, one important way is to understand how sophisticated your data quality strategy is within your organization.
There are four key stages of data quality sophistication:
Unaware – The organization is unaware of the importance of data quality and its impact on the business. They do not have a strategy in place.
Reactive – The organization only performs data cleansing and analysis as issues occur. There are no specific data roles and tactical fixes reside within departmental silos.
Proactive – The organization has a proactive data strategy with clearly defined roles within the business. There is a clear ownership between the business and IT and a focus on discovery with root-cause analysis.
Optimized – Data quality is monitored as a core factor of the business with documented data quality rules in place. The organization reviews profiling, monitoring and visualizing data as part of a complete strategy.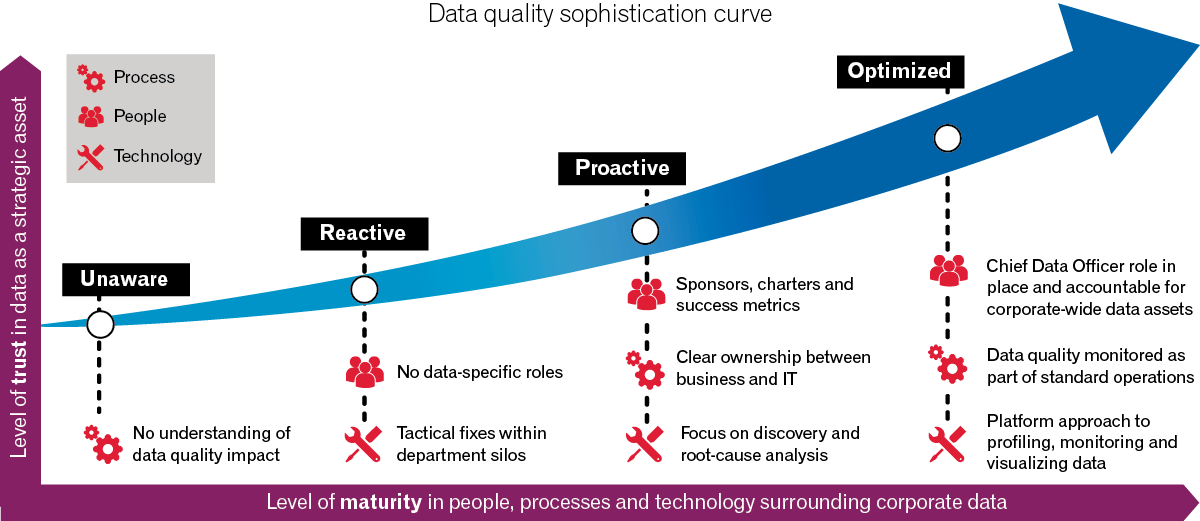 While 88 percent of companies have some sort of data quality strategy in place, many are in early stages of sophistication. Only 18 percent of companies say they have reached the optimized state of data quality. Given that this is self-reported information, it is highly likely that this is an exaggerated number as many feel they are more sophisticated than they may actually be.
Where are you in your data quality sophistication?
To learn more on data quality sophistication, be sure to check out our new data quality buyer's guide.