There's no doubt e-commerce is booming. Shoppers love the convenience of browsing their favorite brands and purchasing goods online from the comfort of their home or on-the-go from their phone. That's why retailers' top business priorities include moving through digital transformation (46%), according to our research.
When retailers revamp their online presence, they unlock the opportunity to capture an immense amount of data to leverage for key business objectives.
The data that is collected from website traffic, online transactions, social media engagement, email open and click rates, and even in-store transactions inform decisions that can improve a brand's operation, risk management plan, and overall customer experience.
The kicker: To use data effectively to inform business strategies, you need to be confident the data is validated. Without accurate information, you can't support key business objectives and, ultimately, you will struggle to see high ROI on your data or corporate projects.
How can you ensure you have a constant inflow of accurate customer contact data?
1. Evaluate your database.
To better understand the current state of data, you need to assess how you capture data, how you currently monitor and manage the records, and what gaps you notice within your database.
One gap could be a black hole of data debt—inaccurate data holding you back from seeing high ROI on data projects and business objectives. Our research shows 78 percent of organizations recognize data debt as a problem. Once you know the extent of your data debt, you know what your business is at risk for and how to fix it—here are five steps for you to turnaround your data debt.
Evaluating your database gives you insight to where you are now and where you want to be—a data-driven, retail organization with a streamlined distribution channel and an optimal customer experience.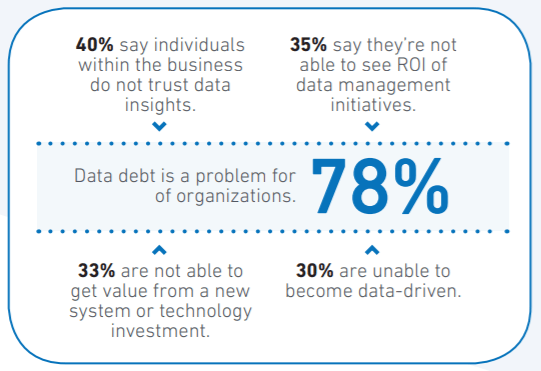 2. Make a data management plan.
Determining how you want to manage your data quality is the cornerstone to ensuring you have a constant lifecycle of trustworthy customer data. Your plan should consist of these three components:
People: Hiring the right people and training the right people to drive data projects and act as a resource to business users will be a key resource to get your data management plan off the ground and build your business user's data confidence.
Processes: Ensuring your data management plan is a natural fit to your organization's workflow will make for easier user adoption, meaning faster speed to value and quicker ROI.
Tools: Implementing tools to clean and manage your data on an ongoing basis is fundamental to user adoption and building out your data management process. There are several options for retailers like monthly batch cleanses or integrating a data quality management tool into your tech stack, based on what is best for your retail business.
It's key to have a people-first mindset for both your team members and customers. When you do, you can be confident your data management plan will fix your data debt and provide incomparable positive results.
With the right data processes and tools, you won't just be another organization expanding their digital presence on e-commerce sites and social media; you will have a database complete with validated customer addresses, emails, and phone numbers to ensure you are reaching your customers in the most effective way. What's more, you will also notice increased efficiency (60%), increased customer trust (44%), cost savings (41%), and more.
A comprehensive, enterprise-wide data management plan gives retailers the insights they need to make timely, proven decisions in a competitive, everchanging digital world.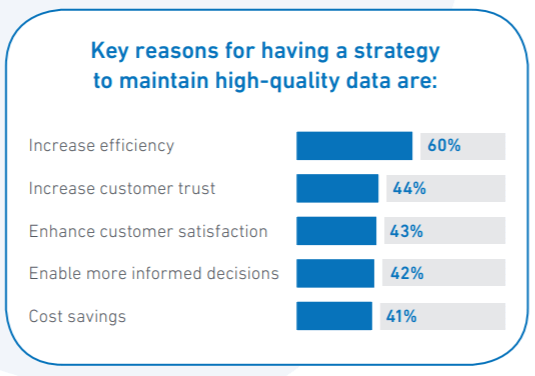 3. Use trustworthy data.
You've evaluated your database for data debt, built out your data management plan, and now it's time to put your accurate insights to work. With validated customer data like emails, addresses, and phone numbers, you can inform decisions to support your e-commerce operation.
The benefits of collecting large amounts of accurate data from digital platforms doesn't only enable retailers to constantly stay connected with their customers through an e-commerce platform but allows you as a retailer to go beyond your norm—to experiment with targeting different buyers, expand your product lines, and even open a new brick-and-mortar location in a demographic that is known to consume your brand.
The best part to using trustworthy data can help you speed up your digital transformation journey. Not only are your reaping benefits of knowing who your customers are, what their expectations are, and how they like to connect with your brand to inform your distribution and improve customer experience, but you can also work more quickly while still seeing higher ROI and securing your future.
Retailers who have taken steps to expand their online presence have a greater chance to stay connected with loyal customers and expand their market outside the traditional walls of their brick-and-mortar store. Now it's time to take it one step further by using digital platforms to collect and use trustworthy data to optimize key retail business objectives.
Retailers, learn how data can help drive new, innovative ways to transform your business. Read the research today!