Data is quickly becoming the currency of the digital economy. The organizations that are able to best leverage their data for strategic decisioning will be well-poised for success in the years ahead. Nearly all of the C-level executives in our study (95%) believe that data is an integral part of forming their business strategy—a sentiment that has grown by 15 percent over the prior year. While many organizations claim to be data-driven, results from our 2018 global data management benchmark report suggest that businesses have a way to go until they reach the optimum level of data management maturity. With that said, let's review some of this year's key findings:
Customer experience is the leading business priority for 2018.
Changing consumer expectations spurred by digital transformation are reshaping the way in which brands interact with customers. In fact, 61 percent of organizations we surveyed say that forming better relationships with their customers can provide a true competitive advantage in their markets. It makes sense then, that improving the customer experience sits high atop most CEO's yearly list of business priorities. Forming better relationships with customers comes from better understanding them in order to provide superb services, which is why a quarter of organizations plan to embark on single customer view programs in the upcoming year.
Organizations are struggling to reach optimal data management maturity.
Although the benefits of leveraging data for strategic purposes is well recognized, our study revealed that businesses today are struggling to keep up with digital transformation. While the number of organizations at the highest level of data management maturity increased by 2 percent over the prior year, the number of organizations at the lowest level of maturity increased by 12 percent. As the volumes and variety of data continue to place a strain on existing data management practices and technology, forward-looking organizations should begin to adopt platforms and processes that scale with the demands of digital business.
Human error continues to be a leading cause of inaccurate data.
Human error is a perennial issue for organizations and a leading cause of data inaccuracies. Over the last several years, this has been the number one challenge facing organizations that are looking to improve their data quality, and this year 49 percent of organizations say that it is a challenge. While many organizations make investments around their data management technology and business processes, an often-overlooked component is the training that is given to staff who interact with data. Organizations looking to improve their data quality will want to focus on training those who create or transform data, appointing data stewards to be accountable for ensuring processes are followed, and automating data processes when possible.
Data preparation projects cost businesses in terms of resources and efficiency.
While data analytics is once again the most planned project in the next 12 months, organizations will need to conquer their data preparation projects to get to that point. While most consider it a necessary evil, data prep can cost businesses quite substantially. In fact, our study revealed that 91 percent of C-level executives believe that preparing data for insight ultimately costs their business in terms of resources and efficiency. That's because employees spend up to 44 percent of total project time preparing their data for insights, rather than spending that time on more meaningful work. We expect organizations will begin to deploy high-tech solutions such as artificial intelligence or machine learning to shoulder the burden of many of these projects. Although, any such solution could be years from now.
In the coming years, we expect to see organizations recalibrate their expectations around data management. As the digital economy continues to put pressure on existing data management techniques, organizations will evolve to rise with the market demand. Our study this year highlights many of the challenges and opportunities that lay ahead for our industry.
Download the full report to learn more and stay on top of this year's upcoming trends.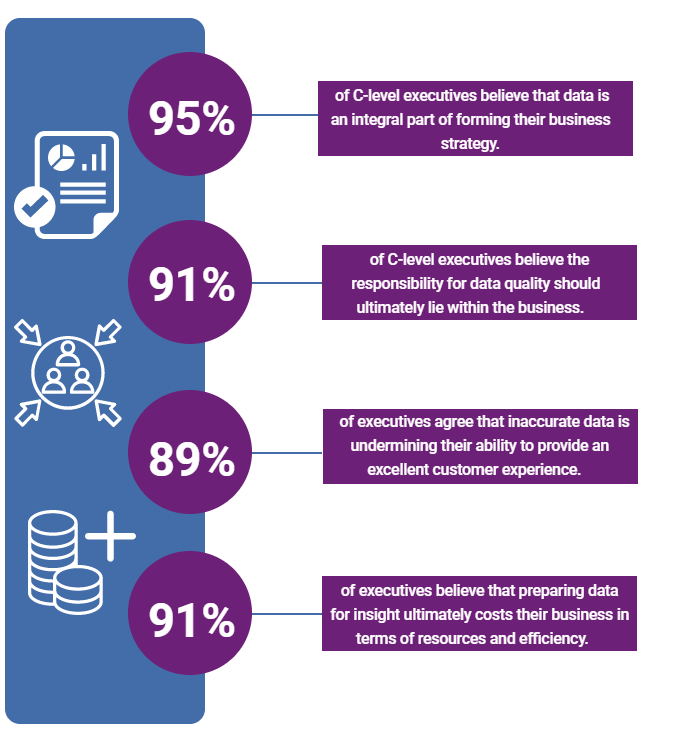 ---
(Updated 8/1/2019) - Check out the new 2019 Global Data Management Benchmark report and see how our research report assesses the state of data management across multiple organizations and proposes clear strategies to improve people, processes, and technology regarding data management. Taking control of data will help organizations win in a complex marketplace. Read the overview!